Today our passages are 2 Samuel 18:1–19:10; John 20:1-31; Psalm 119:153-176; and Proverbs 16:14-15.
The readings are from the
Contemporary English Version
. If you find these readings helpful, please consider sending an offering directly to Cove Presbyterian Church, 3404 Main Street, Weirton, West Virginia or through
PayPal
by using the link below.
2 Samuel 18-19:10 (Contemporary English Version)
2 Samuel 18
David Gets Ready for Battle
1David divided his soldiers into groups of a hundred and groups of a thousand. Then he chose officers to be in command of each group. 2He sent out one-third of his army under the command of Joab, another third under the command of Abishai the son of Zeruiah, and the rest under the command of Ittai from Gath. He told the soldiers, "I'm going into battle with you."
3But the soldiers said, "No, don't go into battle with us! It won't matter to our enemies if they make us all run away, or even if they kill half of us. But you are worth ten thousand of us. It would be better for you to stay in town and send help if we need it."
4-6David said, "All right, if you think I should."
Then in a voice loud enough for everyone to hear, he said, "Joab! Abishai! Ittai! For my sake, be sure that Absalom comes back unharmed."
David stood beside the town gate as his army marched past in groups of a hundred and in groups of a thousand.
The war with Israel took place in Ephraim Forest.
Joab Kills Absalom
7-8Battles were being fought all over the forest, and David's soldiers were winning. Twenty thousand soldiers were killed a<="" value="[a]" >[] that day, and more of them died from the dangers of the forest than from the fighting itself. 9Absalom was riding his mule under a huge tree when his head [b<="">] caught in the branches. The mule ran off and left Absalom hanging in midair. Some of David's soldiers happened by, 10and one of them went and told Joab, "I saw Absalom hanging in a tree!" 11Joab said, "You saw Absalom? Why didn't you kill him? I would have given you ten pieces of silver and a special belt."
12The man answered, "Even if you paid me a thousand pieces of silver here and now, I still wouldn't touch the king's son. We all heard King David tell you and Abishai and Ittai not to harm Absalom. 13He always finds out what's going on. I would have been risking my life to kill Absalom, because you would have let me take the blame."
14Joab said, "I'm not going to waste any more time on you!"
Absalom was still alive, so Joab took three spears and stuck them through Absalom's chest. 15Ten of Joab's bodyguards came over and finished him off. 16Then Joab blew a trumpet to signal his troops to stop chasing Israel's soldiers. 17They threw Absalom's body into a deep pit in the forest and put a big pile of rocks over it.
Meanwhile, the people of Israel had all run back to their own homes.
18When Absalom was alive, he had set up a stone monument for himself in King's Valley. He explained, "I don't have any sons [c<="">] to keep my name alive." He called it Absalom's Monument, and that is the name it still has today. [d<="">]
Ahimaaz Wants To Tell David
19Ahimaaz the son of Zadok said, "Joab, let me run and tell King David that the LORD has rescued him from his enemies."
20Joab answered, "You're not the one to tell the king that his son is dead. You can take him a message some other time, but not today."
21Someone from Ethiopia [e<="">] was standing there, and Joab told him, "Go and tell the king what you have seen." The man knelt down in front of Joab and then got up and started running. 22Ahimaaz spoke to Joab again, "No matter what happens, I still want to run. And besides, the Ethiopian has already left."
Joab said, "Why should you run? You won't get a reward for the news you have!"
23"I'll run no matter what!" Ahimaaz insisted.
"All right then, run!" Joab said.
Ahimaaz took the road through the Jordan Valley and outran the Ethiopian.
24Meanwhile, David was sitting between the inner and outer gates [f<="">] in the city wall. One of his soldiers was watching from the roof of the gate-tower. He saw a man running toward the town 25and shouted down to tell David. David answered, "If he's alone, he must have some news."
The runner was getting closer, 26when the soldier saw someone else running. He shouted down to the gate, "Look! There's another runner!"
David said, "He must have some news too."
27The soldier on the roof shouted, "The first one runs just like Ahimaaz the son of Zadok."
This time David said, "He's a good man. He must have some good news."
28Ahimaaz called out, "We won! We won!" Then he bowed low to David and said, "Your Majesty, praise the LORD your God! He has given you victory over your enemies."
29"Is my son Absalom all right?" David asked.
Ahimaaz said, "When Joab sent your personal servant and me, I saw a noisy crowd. But I don't know what it was all about."
30David told him, "Stand over there and wait."
Ahimaaz went over and stood there. 31The Ethiopian came and said, "Your Majesty, today I have good news! The LORD has rescued you from all your enemies!"
32"Is my son Absalom all right?" David asked.
The Ethiopian replied, "I wish that all Your Majesty's enemies and everyone who tries to harm you would end up like him!"
David Cries for Absalom
33David started trembling. Then he went up to the room above the city gate to cry. As he went, he kept saying, "My son Absalom! My son, my son Absalom! I wish I could have died instead of you! Absalom, my son, my son!" [g<="">]
2 Samuel 19
1Someone told Joab, "The king is crying because Absalom is dead."
2David's army found out he was crying because his son had died, and their day of victory suddenly turned into a day of sadness. 3The troops were sneaking into Mahanaim, just as if they had run away from a battle and were ashamed.
4David held his hands over his face and kept on crying loudly, "My son, Absalom! Absalom, my son, my son!"
5Joab went to the house where David was staying and told him:
You've made your soldiers ashamed! Not only did they save your life, they saved your sons and daughters and wives as well. 6You're more loyal to your enemies than to your friends. What you've done today has shown your officers and soldiers that they don't mean a thing to you. You would be happy if Absalom was still alive, even if the rest of us were dead.
7Now get up! Go out there and thank them for what they did. If you don't, I swear by the LORD that you won't even have one man left on your side tomorrow morning. You may have had a lot of troubles in the past, but this will be the worst thing that has ever happened to you!
8David got up and went to the town gate and sat down. When the people heard that he was sitting there, they came to see him.
After Israel's soldiers had all returned home,
Israel and Judah Want David Back
9-10everyone in Israel started arguing. They were saying to each other, "King David rescued us from the Philistines and from our other enemies. But then we chose Absalom to be our new leader, and David had to leave the country to get away. Absalom died in battle, so why hasn't something been done to bring David back?"
---
John 20:1-31 (Contemporary English Version)
John 20
Jesus Is Alive
(Matthew 28.1-10; Mark 16.1-8; Luke 24.1-12)
1On Sunday morning while it was still dark, Mary Magdalene went to the tomb and saw that the stone had been rolled away from the entrance. 2She ran to Simon Peter and to Jesus' favorite disciple and said, "They have taken the Lord from the tomb! We don't know where they have put him."
3Peter and the other disciple started for the tomb. 4They ran side by side, until the other disciple ran faster than Peter and got there first. 5He bent over and saw the strips of linen cloth lying inside the tomb, but he did not go in.
6When Simon Peter got there, he went into the tomb and saw the strips of cloth. 7He also saw the piece of cloth that had been used to cover Jesus' face. It was rolled up and in a place by itself. 8The disciple who got there first then went into the tomb, and when he saw it, he believed. 9At that time Peter and the other disciple did not know that the Scriptures said Jesus would rise to life. 10So the two of them went back to the other disciples.
Jesus Appears to Mary Magdalene
(Mark 16.9-11)
11Mary Magdalene stood crying outside the tomb. She was still weeping, when she stooped down 12and saw two angels inside. They were dressed in white and were sitting where Jesus' body had been. One was at the head and the other was at the foot. 13The angels asked Mary, "Why are you crying?"
She answered, "They have taken away my Lord's body! I don't know where they have put him."
14As soon as Mary said this, she turned around and saw Jesus standing there. But she did not know who he was. 15Jesus asked her, "Why are you crying? Who are you looking for?"
She thought he was the gardener and said, "Sir, if you have taken his body away, please tell me, so I can go and get him."
16Then Jesus said to her, "Mary!"
She turned and said to him, "Rabboni." The Aramaic word "Rabboni" means "Teacher."
17Jesus told her, "Don't hold on to me! I have not yet gone to the Father. But tell my disciples that I am going to the one who is my Father and my God, as well as your Father and your God." 18Mary Magdalene then went and told the disciples that she had seen the Lord. She also told them what he had said to her.
Jesus Appears to His Disciples
(Matthew 28.16-20; Mark 16.14-18; Luke 24.36-49)
19The disciples were afraid of the Jewish leaders, and on the evening of that same Sunday they locked themselves in a room. Suddenly, Jesus appeared in the middle of the group. He greeted them 20and showed them his hands and his side. When the disciples saw the Lord, they became very happy.
21After Jesus had greeted them again, he said, "I am sending you, just as the Father has sent me." 22Then he breathed on them and said, "Receive the Holy Spirit. 23If you forgive anyone's sins, they will be forgiven. But if you don't forgive their sins, they will not be forgiven."
Jesus and Thomas
24Although Thomas the Twin was one of the twelve disciples, he wasn't with the others when Jesus appeared to them. 25So they told him, "We have seen the Lord!"
But Thomas said, "First, I must see the nail scars in his hands and touch them with my finger. I must put my hand where the spear went into his side. I won't believe unless I do this!"
26A week later the disciples were together again. This time, Thomas was with them. Jesus came in while the doors were still locked and stood in the middle of the group. He greeted his disciples 27and said to Thomas, "Put your finger here and look at my hands! Put your hand into my side. Stop doubting and have faith!"
28Thomas replied, "You are my Lord and my God!"
29Jesus said, "Thomas, do you have faith because you have seen me? The people who have faith in me without seeing me are the ones who are really blessed!"
Why John Wrote His Book
30Jesus worked many other miracles a<="" value="[a]" >[] for his disciples, and not all of them are written in this book. 31But these are written so that you will put your faith in Jesus as the Messiah and the Son of God. If you have faith in [b<="">] him, you will have true life.
John 20:30 miracles: See the note at 2.11.
John 20:31 put your faith in. . . have faith in: Some manuscripts have " keep on having faith in. . . keep on having faith in."
---
Psalm 119:153-176 (Contemporary English Version)
153I have not forgotten your Law!
Look at the trouble I am in,
and rescue me.
154Be my defender and protector!
Keep your promise
and save my life.
155Evil people won't obey you,
and so they have no hope
of being saved.
156You are merciful, LORD!
Please do the right thing
and save my life.
157I have a lot of brutal enemies,
but still I never turn
from your laws.
158All of those unfaithful people
who refuse to obey you
are disgusting to me.
159Remember how I love your laws,
and show your love for me
by keeping me safe.
160All you say can be trusted;
your teachings are true
and will last forever.
161Rulers are cruel to me
for no reason.
But with all my heart
I respect your words,
162because they bring happiness
like treasures taken in war.
163I can't stand liars,
but I love your Law.
164I praise you seven times a day
because your laws are fair.
165You give peace of mind
to all who love your Law.
Nothing can make them fall.
166You are my only hope
for being saved, LORD,
and I do all you command.
167I love and obey your laws
with all my heart.
168You know everything I do.
You know I respect every law
you have given.
169Please, LORD, hear my prayer
and give me the understanding
that comes from your word.
170Listen to my concerns
and keep me safe,
just as you have promised.
171If you will teach me your laws,
I will praise you 172and sing
about your promise,
because all of your teachings
are what they ought to be.
173Be ready to protect me
because I have chosen
to obey your laws.
174I am waiting for you
to save me, LORD.
Your Law makes me happy.
175Keep me alive,
so I can praise you,
and let me find help
in your teachings.
176I am your servant,
but I have wandered away
like a lost sheep.
Please come after me,
because I have not forgotten
your teachings.
---
Proverbs 16:14-15 (Contemporary English Version)
14An angry ruler
can put you to death.
So be wise!
Don't make one angry.
15When a ruler is happy
and pleased with you,
it's like refreshing rain,
and you will live.
---
Verse of the Day
"Then I saw New Jerusalem, that holy city, coming down from God in heaven. It was like a bride dressed in her wedding gown and ready to meet her husband. I heard a loud voice shout from the throne: God's home is now with his people. He will live with them, and they will be his own. Yes, God will make his home among his people. He will wipe all tears from their eyes, and there will be no more death, suffering, crying, or pain. These things of the past are gone forever." - Revelation 21: 2-4
---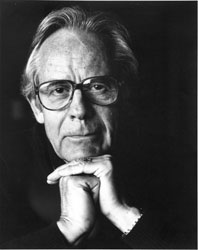 Thought for the Day
American existential psychologist and author of the influential book Love and Will,
Rollo May
wrote, "The opposite of courage in our society is not cowardice, it is conformity."
---
Three friends decided to go hunting together. One was a lawyer, one a doctor, and the other a preacher. As they were walking, along came a big buck. The three of them shot at the same time and the buck dropped immediately. The hunting party rushed to see how big it actually was. Upon reaching the fallen deer, they found out that it was dead but had only one bullet hole.A debate followed concerning whose buck it was. When a game warden came by, he offered to help. A few moments later, he had the answer.He said with much confidence, "The pastor shot the buck!" The friends were amazed that he could determine that so quickly and with so little examination. The game warden just smiled. "It was easy to figure out. The bullet went in one ear and out the other."