Today our passages are 2 Samuel 2:12–3:39; John 13:1-30; Psalm 119:1-16; and Proverbs 15:29-30.The readings are from the
Contemporary English Version
. If you find these readings helpful, please consider sending an offering directly to Cove Presbyterian Church, 3404 Main Street, Weirton, West Virginia or through
PayPal
by using the link below.
---
2 Samuel 2:12-3:39 (Contemporary English Version)
The War between David and Ishbosheth
12One day, Abner and the soldiers of Ishbosheth [a] left Mahanaim and went to Gibeon. 13Meanwhile, Joab the son of Zeruiah [b] was leading David's soldiers, and the two groups met at the pool in Gibeon. [c] Abner and his men sat down on one side of the pool, while Joab and his men sat on the other side. 14Abner yelled to Joab, "Let's have some of our best soldiers get up and fight each other!" Joab agreed, 15and twelve of Ishbosheth's men from the tribe of Benjamin got up to fight twelve of David's men. 16They grabbed each other by the hair and stabbed each other in the side with their daggers. They all died right there! That's why the place in Gibeon is called "Field of Daggers." [d] 17Then everyone started fighting. Both sides fought very hard, but David's soldiers defeated Abner and the soldiers of Israel. 18Zeruiah's three sons were there: Joab, Abishai, and Asahel. Asahel could run as fast as a deer in an open field, 19and he ran straight after Abner, without looking to the right or to the left.
20When Abner turned and saw him, he said, "Is that you, Asahel?"
Asahel answered, "Yes it is."
21Abner said, "There are soldiers all around. Stop chasing me and fight one of them! Kill him and take his clothes and weapons for yourself."
But Asahel refused to stop.
22Abner said, "If you don't turn back, I'll have to kill you! Then I could never face your brother Joab again."
23But Asahel would not turn back, so Abner struck him in the stomach with the back end of his spear. The spear went all the way through and came out of his back. Asahel fell down and died. Everyone who saw Asahel lying dead just stopped and stood still. 24But Joab and Abishai went after Abner. Finally, about sunset, they came to the hill of Ammah, not far from Giah on the road to Gibeon Desert. 25Abner brought the men of Benjamin together in one group on top of a hill, and they got ready to fight.
26Abner shouted to Joab, "Aren't we ever going to stop killing each other? Don't you know that the longer we keep on doing this, the worse it's going to be when it's all over? When are you going to order your men to stop chasing their own relatives?"
27Joab shouted back, "I swear by the living God, if you hadn't spoken, my men would have chased their relatives all night!" 28Joab took his trumpet and blew the signal for his soldiers to stop chasing the soldiers of Israel. Right away, the fighting stopped.
29Abner and his troops marched through the Jordan River valley all that night. Then they crossed the river and marched all morning [e] until they arrived back at Mahanaim. 30As soon as Joab stopped chasing Abner, he got David's troops together and counted them. There were nineteen missing besides Asahel. 31But David's soldiers had killed 360 of Abner's men from the tribe of Benjamin. 32Joab and his troops carried Asahel's body to Bethlehem and buried him in the family burial place. Then they marched all night and reached Hebron before sunrise.
2 Samuel 3
1This battle was the beginning of a long war between the followers of Saul and the followers of David. Saul's power grew weaker, but David's grew stronger.
David's Sons Born in Hebron
(1 Chronicles 3.1-4)
2-5Several of David's sons were born while he was living in Hebron. His oldest son was Amnon, whose mother was Ahinoam from Jezreel. David's second son was Chileab, whose mother was Abigail, who had been married to Nabal from Carmel. Absalom was the third. His mother was Maacah, the daughter of King Talmai of Geshur. The fourth was Adonijah, whose mother was Haggith. The fifth was Shephatiah, whose mother was Abital. The sixth was Ithream, whose mother was Eglah, another one of David's wives.
Abner Decides To Help David
6As the war went on between the families of David and Saul, Abner was gaining more power than ever in Saul's family. 7He had even slept with a wife [f] of Saul by the name of Rizpah the daughter of Aiah. But Saul's son Ishbosheth [g] told Abner, "You shouldn't have slept with one of my father's wives!" 8Abner was very angry at what Ishbosheth had said, and he told Ishbosheth:
Am I some kind of worthless dog from Judah? I've always been loyal to your father's family and to his relatives and friends. I haven't turned you over to David. And yet you talk to me as if I've committed a crime with this woman.
9I ask God to punish me if I don't help David get what the LORD promised him! 10God said that he wouldn't let anyone in Saul's family ever be king again and that David would be king instead. He also said that David would rule both Israel and Judah, all the way from Dan in the north to Beersheba in the south. [h] 11Ishbosheth was so afraid of Abner that he could not even answer.
12Abner sent some of his men to David with this message: "You should be the ruler of the whole nation. [i] If you make an agreement with me, I will persuade everyone in Israel to make you their king." 13David sent this message back: "Good! I'll make an agreement with you. But before I will even talk with you about it, you must get Saul's daughter Michal back for me."
14David sent a few of his officials to Ishbosheth to give him this message: "Give me back my wife Michal! I killed a hundred Philistines so I could marry her." [j] 15Ishbosheth sent some of his men to take Michal away from her new husband, Paltiel the son of Laish. 16Paltiel followed Michal and the men all the way to Bahurim, crying as he walked. But he went back home after Abner ordered him to leave.
17Abner talked with the leaders of the tribes of Israel and told them, "You've wanted to make David your king for a long time now. 18So do it! After all, God said he would use his servant David to rescue his people Israel from their enemies, especially from the Philistines."
19Finally, Abner talked with the tribe of Benjamin. Then he left for Hebron to tell David everything that the tribe of Benjamin and the rest of the people of Israel wanted to do. 20Abner took twenty soldiers with him, and when they got to Hebron, David gave a big feast for them.
21After the feast, Abner said, "Your Majesty, let me leave now and bring Israel here to make an agreement with you. You'll be king of the whole nation, just as you've been wanting."
David told Abner he could leave, and he left without causing any trouble.
Joab Kills Abner
22Soon after Abner had left Hebron, Joab and some of David's soldiers came back, bringing a lot of things they had taken from an enemy village. 23Right after they arrived, someone told Joab, "Abner visited the king, and the king let him go. Abner even left without causing any trouble."
24Joab went to David and said, "What have you done? Abner came to you, and you let him go. Now he's long gone! 25You know Abner--he came to trick you. He wants to find out how strong your army is and to know everything you're doing."
26Joab left David, then he sent some messengers to catch up with Abner. They brought him back from the well at Sirah, [k] but David did not know anything about it. 27When Abner returned to Hebron, Joab pretended he wanted to talk privately with him. So he took Abner into one of the small rooms that were part of the town gate and stabbed him in the stomach. Joab killed him because Abner had killed Joab's brother Asahel.
Abner's Funeral
28David heard how Joab had killed Abner, and he said, "I swear to the LORD that I am completely innocent of Abner's death! 29Joab and his family are the guilty ones. I pray that Joab's family will always be sick with sores and other skin diseases. May they all be cowards, [l] and may they die in war or starve to death." 30Joab and his brother Abishai killed Abner because he had killed their brother Asahel in the battle at Gibeon.
31David told Joab and everyone with him, "Show your sorrow by tearing your clothes and wearing sackcloth! [m] Walk in front of Abner's body and cry!" David walked behind the stretcher on which Abner's body was being carried. 32Abner was buried in Hebron, while David and everyone else stood at the tomb and cried loudly. 33Then the king sang a funeral song about Abner:
Abner, why should you
have died like an outlaw? [n] 34No one tied your hands
or chained your feet,
yet you died as a victim
of murderers.
Everyone started crying again. 35Then they brought some food to David and told him he would feel better if he had something to eat. It was still daytime, and David said, "I swear to God that I'll not take a bite of bread or anything else until sunset!"
36Everyone noticed what David did, and they liked it, just as they always liked what he did. 37Now the people of Judah and Israel were certain that David had nothing to do with killing Abner.
38David said to his officials, "Don't you realize that today one of Israel's great leaders has died? 39I am the chosen king, but Joab and Abishai have more power than I do. So God will have to pay them back [o] for the evil thing they did."
Footnotes:
---
John 13:1-30 (Contemporary English Version)
John 13
Jesus Washes the Feet of His Disciples
1It was before Passover, and Jesus knew that the time had come for him to leave this world and to return to the Father. He had always loved his followers in this world, and he loved them to the very end.
2Even before the evening meal started, the devil had made Judas, the son of Simon Iscariot, [a] decide to betray Jesus. 3Jesus knew that he had come from God and would go back to God. He also knew that the Father had given him complete power. 4So during the meal Jesus got up, removed his outer garment, and wrapped a towel around his waist. 5He put some water into a large bowl. Then he began washing his disciples' feet and drying them with the towel he was wearing.
6But when he came to Simon Peter, that disciple asked, "Lord, are you going to wash my feet?"
7Jesus answered, "You don't really know what I am doing, but later you will understand."
8"You will never wash my feet!" Peter replied.
"If I don't wash you," Jesus told him, "you don't really belong to me."
9Peter said, "Lord, don't wash just my feet. Wash my hands and my head."
10Jesus answered, "People who have bathed and are clean all over need to wash just their feet. And you, my disciples, are clean, except for one of you." 11Jesus knew who would betray him. That is why he said, "except for one of you."
12After Jesus had washed his disciples' feet and had put his outer garment back on, he sat down again. [b] Then he said: Do you understand what I have done? 13You call me your teacher and Lord, and you should, because that is who I am. 14And if your Lord and teacher has washed your feet, you should do the same for each other. 15I have set the example, and you should do for each other exactly what I have done for you. 16I tell you for certain that servants are not greater than their master, and messengers are not greater than the one who sent them. 17You know these things, and God will bless you, if you do them.
18I am not talking about all of you. I know the ones I have chosen. But what the Scriptures say must come true. And they say, "The man who ate with me has turned against me!" 19I am telling you this before it all happens. Then when it does happen, you will believe who I am. [c] 20I tell you for certain that anyone who welcomes my messengers also welcomes me, and anyone who welcomes me welcomes the one who sent me.
Jesus Tells What Will Happen to Him
(Matthew 26.20-25; Mark 14.17-21; Luke 22.21-23)
21After Jesus had said these things, he was deeply troubled and told his disciples, "I tell you for certain that one of you will betray me." 22They were confused about what he meant. And they just stared at each other.
23Jesus' favorite disciple was sitting next to him at the meal, 24and Simon motioned for that disciple to find out which one Jesus meant. 25So the disciple leaned toward Jesus and asked, "Lord, which one of us are you talking about?"
26Jesus answered, "I will dip this piece of bread in the sauce and give it to the one I was talking about."
Then Jesus dipped the bread and gave it to Judas, the son of Simon Iscariot. [d] 27Right then Satan took control of Judas. Jesus said, "Judas, go quickly and do what you have to do." 28No one at the meal understood what Jesus meant. 29But because Judas was in charge of the money, some of them thought that Jesus had told him to buy something they needed for the festival. Others thought that Jesus had told him to give some money to the poor. 30Judas took the piece of bread and went out.
It was already night.
Footnotes:
---
Psalm 119:1-16 (Contemporary English Version)
Psalm 119
In Praise of the Law of the LORD
1Our LORD, you bless everyone
who lives right
and obeys your Law.
2You bless all of those
who follow your commands
from deep in their hearts
3and who never do wrong
or turn from you.
4You have ordered us always
to obey your teachings;
5I don't ever want to stray
from your laws.
6Thinking about your commands
will keep me from doing
some foolish thing.
7I will do right and praise you
by learning to respect
your perfect laws.
8I will obey all of them!
Don't turn your back on me.
9Young people can live
a clean life
by obeying your word.
10I worship you
with all my heart.
Don't let me walk away
from your commands.
11I treasure your word
above all else;
it keeps me from sinning
against you.
12I praise you, LORD!
Teach me your laws.
13With my own mouth,
I tell others the laws
that you have spoken.
14Obeying your instructions
brings as much happiness
as being rich.
15I will study your teachings
and follow your footsteps.
16I will take pleasure
in your laws
and remember your words.
---
Proverbs 15:29-30 (Contemporary English Version)
29The LORD never even hears
the prayers of the wicked,
but he answers the prayers
of all who obey him.
30A friendly smile
makes you happy,
and good news
makes you feel strong.
---
Verse of the Day
"We should think of their good and try to help them by doing what pleases them." - Romans 15:2
---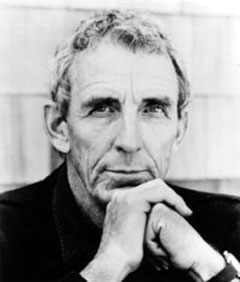 Thought for the Day
American novelist, naturalist, wilderness writer and CIA agent,
Peter Matthiessen
wrote, "When we are mired in the relative world, never lifting our gaze to the mystery, our life is stunted, incomplete; we are filled with yearning for that paradise that is lost when, as young children, we replace it with words and ideas and abstractions — such as merit, such as past, present, and future — our direct, spontaneous experience of the thing itself, in the beauty and precision of this present moment. We identify, label, and interpret our surroundings as abstract concepts, quite separate from another concept, which is our own separate identity and ego."
---
A few minutes before the church services started, the congregation was sitting in their pews and talking. Suddenly, Satan appeared at the front of the church.
Everyone started screaming and running for the back entrance, trampling each other in a frantic effort to get away from evil incarnate. Soon the church was empty except for one elderly gentleman who sat calmly in his pew without moving, seemingly oblivious to the fact that God's ultimate enemy was in his presence.
So Satan walked up to the man and said, 'Do you know who I am?'
The man replied, 'Yep, sure do.'
Aren't you afraid of me?' Satan asked.
'Nope, sure ain't.' said the man.
Don't you realize I can kill you with one word?' asked Satan.
Don't doubt it for a minute, ' returned the old man, in an even tone.
'Did you know that I can cause you profound, horrifying agony for all eternity?' persisted Satan.
Yep,' was the calm reply.
'And you're still not afraid?' asked Satan.
'Nope,' said the old man.
More than a little perturbed, Satan asked, ' Why aren't you afraid of me?'
The man calmly replied, 'Been married to your sister for 48 years.'