Today our passages are Exodus 21:22–23:13; Matthew 24:1-28; Psalm 29:1-11; and Proverbs 7:6-23. The readings are from
The Message
by
Eugene H. Peterson
.
If you find these readings helpful, please consider sending an offering directly to Cove Presbyterian Church, 3404 Main Street, Weirton, West Virginia or through PayPal.
---
Exodus 21:22-23:13 (The Message)
22-25 "When there's a fight and in the fight a pregnant woman is hit so that she miscarries but is not otherwise hurt, the one responsible has to pay whatever the husband demands in compensation. But if there is further damage, then you must give life for life—eye for eye, tooth for tooth, hand for hand, foot for foot, burn for burn, wound for wound, bruise for bruise.
26-27 "If a slave owner hits the eye of a slave or handmaid and ruins it, the owner must let the slave go free because of the eye. If the owner knocks out the tooth of the male or female slave, the slave must be released and go free because of the tooth.
28-32 "If an ox gores a man or a woman to death, the ox must be stoned. The meat cannot be eaten but the owner of the ox is in the clear. But if the ox has a history of goring and the owner knew it and did nothing to guard against it, then if the ox kills a man or a woman, the ox is to be stoned and the owner given the death penalty. If a ransom is agreed upon instead of death, he must pay it in full as a redemption for his life. If a son or daughter is gored, the same judgment holds. If it is a slave or a handmaid the ox gores, thirty shekels of silver is to be paid to the owner and the ox stoned.
33-34 "If someone uncovers a cistern or digs a pit and leaves it open and an ox or donkey falls into it, the owner of the pit must pay whatever the animal is worth to its owner but can keep the dead animal.
35-36 "If someone's ox injures a neighbor's ox and the ox dies, they must sell the live ox and split the price; they must also split the dead animal. But if the ox had a history of goring and the owner knew it and did nothing to guard against it, the owner must pay an ox for an ox but can keep the dead animal."
Exodus 22
1-3 "If someone steals an ox or a lamb and slaughters or sells it, the thief must pay five cattle in place of the ox and four sheep in place of the lamb. If the thief is caught while breaking in and is hit hard and dies, there is no bloodguilt. But if it happens after daybreak, there is bloodguilt.
3-4 "A thief must make full restitution for what is stolen. The thief who is unable to pay is to be sold for his thieving. If caught red-handed with the stolen goods, and the ox or donkey or lamb is still alive, the thief pays double.
5 "If someone grazes livestock in a field or vineyard but lets them loose so they graze in someone else's field, restitution must be made from the best of the owner's field or vineyard.
6 "If fire breaks out and spreads to the brush so that the sheaves of grain or the standing grain or even the whole field is burned up, whoever started the fire must pay for the damages.
7-8 "If someone gives a neighbor money or things for safekeeping and they are stolen from the neighbor's house, the thief, if caught, must pay back double. If the thief is not caught, the owner must be brought before God to determine whether the owner was the one who took the neighbor's goods.
9 "In all cases of stolen goods, whether oxen, donkeys, sheep, clothing, anything in fact missing of which someone says, 'That's mine,' both parties must come before the judges. The one the judges pronounce guilty must pay double to the other.
10-13 "If someone gives a donkey or ox or lamb or any kind of animal to another for safekeeping and it dies or is injured or lost and there is no witness, an oath before

God

must be made between them to decide whether one has laid hands on the property of the other. The owner must accept this and no damages are assessed. But if it turns out it was stolen, the owner must be compensated. If it has been torn by wild beasts, the torn animal must be brought in as evidence; no damages have to be paid.
14-15 "If someone borrows an animal from a neighbor and it gets injured or dies while the owner is not present, he must pay for it. But if the owner was with it, he doesn't have to pay. If the animal was hired, the payment covers the loss.

16-17 "If a man seduces a virgin who is not engaged to be married and sleeps with her, he must pay the marriage price and marry her. If her father absolutely refuses to give her away, the man must still pay the marriage price for virgins.
18 "Don't let a sorceress live.
19 "Anyone who has sex with an animal gets the death penalty.
20 "Anyone who sacrifices to a god other than

God

alone must be put to death.
21 "Don't abuse or take advantage of strangers; you, remember, were once strangers in Egypt.
22-24 "Don't mistreat widows or orphans. If you do and they cry out to me, you can be sure I'll take them most seriously; I'll show my anger and come raging among you with the sword, and your wives will end up widows and your children orphans.
25 "If you lend money to my people, to any of the down-and-out among you, don't come down hard on them and gouge them with interest.
26-27 "If you take your neighbor's coat as security, give it back before night-fall; it may be your neighbor's only covering—what else does the person have to sleep in? And if I hear the neighbor crying out from the cold, I'll step in—I'm compassionate.
28 "Don't curse God; and don't damn your leaders.
29-30 "Don't be stingy as your wine vats fill up.
"Dedicate your firstborn sons to me. The same with your cattle and sheep—they are to stay for seven days with their mother, then give them to me.
31 "Be holy for my sake.
"Don't eat mutilated flesh you find in the fields; throw it to the dogs."
Exodus 23
1-3 "Don't pass on malicious gossip. "Don't link up with a wicked person and give corrupt testimony. Don't go along with the crowd in doing evil and don't fudge your testimony in a case just to please the crowd. And just because someone is poor, don't show favoritism in a dispute.
4-5 "If you find your enemy's ox or donkey loose, take it back to him. If you see the donkey of someone who hates you lying helpless under its load, don't walk off and leave it. Help it up.
6 "When there is a dispute concerning your poor, don't tamper with the justice due them.
7 "Stay clear of false accusations. Don't contribute to the death of innocent and good people. I don't let the wicked off the hook.
8 "Don't take bribes. Bribes blind perfectly good eyes and twist the speech of good people.
9 "Don't take advantage of a stranger. You know what it's like to be a stranger; you were strangers in Egypt.
10-11 "Sow your land for six years and gather in its crops, but in the seventh year leave it alone and give it a rest so that your poor may eat from it. What they leave, let the wildlife have. Do the same with your vineyards and olive groves.
12 "Work for six days and rest the seventh so your ox and donkey may rest and your servant and migrant workers may have time to get their needed rest.
13 "Listen carefully to everything I tell you. Don't pay attention to other gods—don't so much as mention their names.
---
Matthew 24:1-28 (The Message)
Matthew 24
Routine History
1-2 Jesus then left the Temple. As he walked away, his disciples pointed out how very impressive the Temple architecture was. Jesus said, "You're not impressed by all this sheer size, are you? The truth of the matter is that there's not a stone in that building that is not going to end up in a pile of rubble."
3Later as he was sitting on Mount Olives, his disciples approached and asked him, "Tell us, when are these things going to happen? What will be the sign of your coming, that the time's up?"
4-8Jesus said, "Watch out for doomsday deceivers. Many leaders are going to show up with forged identities, claiming, 'I am Christ, the Messiah.' They will deceive a lot of people. When reports come in of wars and rumored wars, keep your head and don't panic. This is routine history; this is no sign of the end. Nation will fight nation and ruler fight ruler, over and over. Famines and earthquakes will occur in various places. This is nothing compared to what is coming.
9-10"They are going to throw you to the wolves and kill you, everyone hating you because you carry my name. And then, going from bad to worse, it will be dog-eat-dog, everyone at each other's throat, everyone hating each other.
11-12"In the confusion, lying preachers will come forward and deceive a lot of people. For many others, the overwhelming spread of evil will do them in—nothing left of their love but a mound of ashes.
13-14"Staying with it—that's what God requires. Stay with it to the end. You won't be sorry, and you'll be saved. All during this time, the good news—the Message of the kingdom—will be preached all over the world, a witness staked out in every country. And then the end will come.
The Monster of Desecration
15-20"But be ready to run for it when you see the monster of desecration set up in the Temple sanctuary. The prophet Daniel described this. If you've read Daniel, you'll know what I'm talking about. If you're living in Judea at the time, run for the hills; if you're working in the yard, don't return to the house to get anything; if you're out in the field, don't go back and get your coat. Pregnant and nursing mothers will have it especially hard. Hope and pray this won't happen during the winter or on a Sabbath.
21-22"This is going to be trouble on a scale beyond what the world has ever seen, or will see again. If these days of trouble were left to run their course, nobody would make it. But on account of God's chosen people, the trouble will be cut short.
The Arrival of the Son of Man
23-25"If anyone tries to flag you down, calling out, 'Here's the Messiah!' or points, 'There he is!' don't fall for it. Fake Messiahs and lying preachers are going to pop up everywhere. Their impressive credentials and dazzling performances will pull the wool over the eyes of even those who ought to know better. But I've given you fair warning.
26-28"So if they say, 'Run to the country and see him arrive!' or, 'Quick, get downtown, see him come!' don't give them the time of day. The Arrival of the Son of Man isn't something you go to see. He comes like swift lightning to you! Whenever you see crowds gathering, think of carrion vultures circling, moving in, hovering over a rotting carcass. You can be quite sure that it's not the living Son of Man pulling in those crowds.
---
Psalm 29:1-11 (The Message)
Psalm 29
A David Psalm
1-2 Bravo,

God

, bravo! Gods and all angels shout, "Encore!"
In awe before the glory,
in awe before God's visible power.
Stand at attention!
Dress your best to honor him!

3

God

thunders across the waters,
Brilliant, his voice and his face, streaming brightness—


God

, across the flood waters.

4

God

's thunder tympanic,


God

's thunder symphonic.

5

God

's thunder smashes cedars,


God

topples the northern cedars.

6 The mountain ranges skip like spring colts,
The high ridges jump like wild kid goats.

7-8

God

's thunder spits fire.


God

thunders, the wilderness quakes;
He makes the desert of Kadesh shake.

9

God

's thunder sets the oak trees dancing
A wild dance, whirling; the pelting rain strips their branches.
We fall to our knees—we call out, "Glory!"

10 Above the floodwaters is

God

's throne
from which his power flows,
from which he rules the world.

11

God

makes his people strong.


God

gives his people peace.
---
Proverbs 7:6-23 (The Message)


6-12 As I stood at the window of my house
looking out through the shutters,
Watching the mindless crowd stroll by,
I spotted a young man without any sense
Arriving at the corner of the street where she lived,
then turning up the path to her house.
It was dusk, the evening coming on,
the darkness thickening into night.
Just then, a woman met him—
she'd been lying in wait for him, dressed to seduce him.
Brazen and brash she was,
restless and roaming, never at home,
Walking the streets, loitering in the mall,
hanging out at every corner in town.

13-20 She threw her arms around him and kissed him,
boldly took his arm and said,
"I've got all the makings for a feast—
today I made my offerings, my vows are all paid,
So now I've come to find you,
hoping to catch sight of your face—and here you are!
I've spread fresh, clean sheets on my bed,
colorful imported linens.
My bed is aromatic with spices
and exotic fragrances.
Come, let's make love all night,
spend the night in ecstatic lovemaking!
My husband's not home; he's away on business,
and he won't be back for a month."

21-23 Soon she has him eating out of her hand,
bewitched by her honeyed speech.
Before you know it, he's trotting behind her,
like a calf led to the butcher shop,
Like a stag lured into ambush
and then shot with an arrow,
Like a bird flying into a net
not knowing that its flying life is over.
---
"The LORD is truthful; he can be trusted. He loves justice and fairness, and he is kind to everyone everywhere on earth." - Psalm 33:4-5
---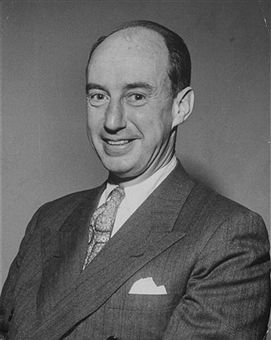 American politician and diplomat, noted for his intellectual demeanor, eloquent public speaking, and promotion of liberal causes in the Democratic Party,
Adlai Stevenson
wrote, "My definition of a free society is a society where it is safe to be unpopular."